July 2022 COVID-19 Impact Survey
The CAA fielded its third special survey on the effects of the pandemic in June–July 2022 to all accredited and candidacy programs. The CAA will review the results at its upcoming meeting September 22–24, 2022. and publish a summary of its findings in fall 2022 on this website.
Aggregate Results from July 2021 COVID-19 Impact Survey
Overview
As a result of the ongoing disruptions caused by the COVID-19 pandemic, programs throughout the country continue to be forced to make changes in programming to accommodate the needs of students. In an effort to continue to monitor the activities of programs, as well as in its role as an accreditor recognized by the Secretary, U.S. Department of Education, the CAA required programs to provide information on those changes as they relate to the Standards for Accreditation and CAA's policies and procedures, via the 2021 COVID-19 Impact Survey. This was a follow-up survey to one fielded by the CAA in September 2020.
Programs were asked to respond to questions by July 23, 2021, to identify the ways in which they had to accommodate various methods for students to meet the standards (e.g. distance education, tele options, program extensions, etc.). The report was distributed to 343 program directors whose programs held an accredited or candidacy status as of June 30, 2021.
Fifty-eight percent of programs (150 speech-language pathology, 15 audiology, and 33 dual programs) completed the survey. The CAA reviewed the results of the report at its September 2021 meeting, including the summary data provided below, and will continue to address individual comments and themes from that report over the next several months.
It is important to note that this survey was fielded just prior to the most recent surge in COVID-19 cases. As such, many programs were forced to pivot again, even if their responses to this survey reflected otherwise.
Program Disruptions
When asked about program disruptions, approximately 68% of programs noted that they continue to experience some type of disruption. At the time of this survey, 74% of programs indicated that the students had returned to some form of in-person learning, with approximately 90% of academic curriculum and 90% of clinical practicum/placements returning to in-person.
Nearly 77% of programs indicated that changes or modifications to academic education included a change in the delivery method (e.g., distance learning). Regarding clinical education, programs indicated the vast majority of changes or modifications impacted the delivery method for clinical practicum (e.g., telepractice, as reported by 87% of programs) and clinical supervision (e.g., telesupervision, as reported by 69% of programs). The use of clinical simulation activities was also reported by 72% of programs.
Approximately 59% of programs indicated that distance education was utilized for the first time due to COVID-19, with 85% of programs indicating that distance education would likely not become a permanent modality for their respective programs.
Program Graduations
The majority of programs (83.5%, N=152) indicated that they did not extend their graduation dates in 2020 or in winter or spring 2021. For those 16.5% of programs (N=54 programs) that extended graduation rates, most of these programs (80%) individualized their graduation extensions to meet student needs. ​
Ninety-four percent (N=173) of programs indicated that they do not expect cohorts in summer/ fall 2021 or through 2022 will need to have graduations extended.
​Academic Education Changes
In terms of temporary changes made in academic education requirements, most programs (76.5%) experienced a change in delivery method, reflecting the transition from in-person to online. The least changed elements of academic content were program length (5.9%) and graduation requirements (3.9%).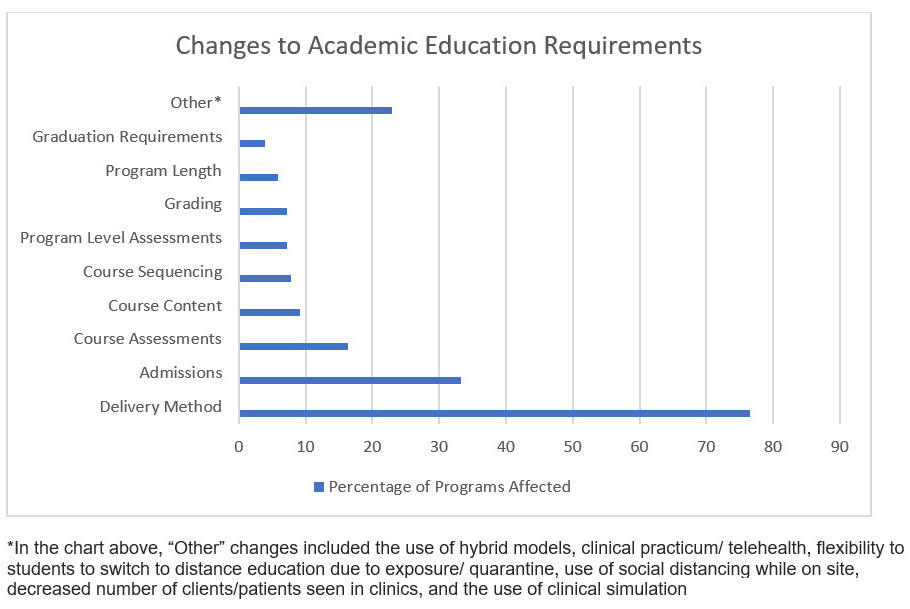 Clinical Education Changes
Programs made several changes in clinical education to accommodate the needs of students. As was the case with academic changes, most programs (85%) noted that changes were made to delivery method (e.g., telepractice). These changes were followed closely by changes in the use of simulation (72%) and the use of telesupervision (69%).